Special Report from Entrepreneur, One of a Series of Events for the 93rd Anniversary of CPC, Launched by ICBR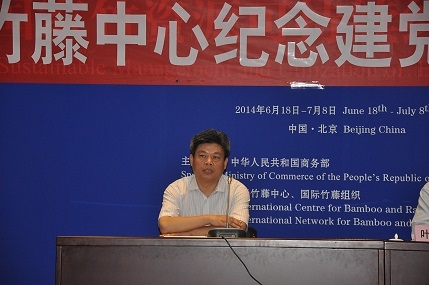 Executive Deputy DG Fei Benhua chaired the meeting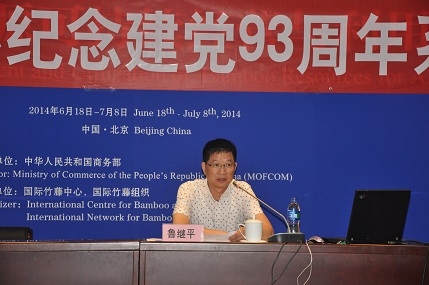 President Lu Jiping delivered a presentation entitled My Story with Bamboo Lattice Packing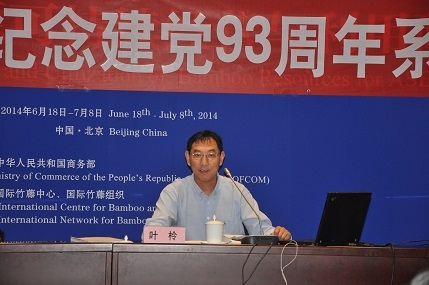 President Ye Ling gave a presentation entitled Technical Overview of Bamboo-entwined Composites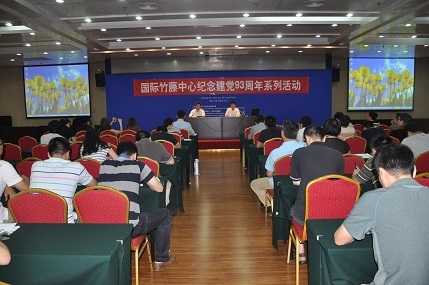 ICBR's CPC members, officials, employees and graduates joined in the meeting
International Center for Bamboo and Rattan (ICBR) invited President Lu Jiping of Hengda Bamboo Lattice Packing Co., Ltd. in Yixing city, Jiangsu province and President Ye Ling of Xinzhou Bamboo-based Composite Material Technology Co., Ltd. to give themed reports on business development and R&D of bamboo-based new materials on July 3, 2014, according to arrangements by ICBR of launching a series of events commemorating the 93rd Anniversary of Communist Party of China (CPC). Dr. Fei Benhua, Executive Deputy Director General (DG) of ICBR, chaired the meeting, joined by Vice Secretary Li Xiaohua of CPC Committee, ICBR and nearly 60 attendees of ICBR's CPC members, officials, employees and graduates.
President Lu Jiping delivered a presentation entitled My Story with Bamboo Lattice Packing, elaborated his experience of leading a private enterprise to develop bamboo lattice packing, both environmentally-friendly and energy-saving, for cooling towers by adhering to the spirit of integrity, pragmatism, harmony and innovation as well as with technology and innovation as the core competitiveness. Currently, the bamboo lattice packing, which won unanimous recognition and praise in the power industry, has been successfully applied in more than 40 power plants in areas such as Hebei, Shanxi, Jiangsu, Shanghai, etc. President Ye Ling gave a presentation entitled Technical Overview of Bamboo-entwined Composites, introduced his experience of R&D and creating theoretical system and manufacturing process of bamboo-based entwined composites in over 7 years since the end of 2006 which won two invention patents, six utility model patents, two applications for invention patents and five for utility model patents; this constantly opened up new prospects for the development of bamboo industry.
Executive Deputy DG Fei Benhua spoke highly of the two reports. He mentioned that this was not only a report given by entrepreneurs on R&D of new bamboo products, but also a cheerful lesson about inspirational entrepreneurship. The success of two entrepreneurs presented us young researchers and graduate students could realize new breakthroughs only by seizing the opportunity of innovation despite of hardship. It was imperative for scientists of ICBR to enhance combining study, research and industry together for innovative products and technologies, to continue digging utilization and value of bamboo resource. They not only needed to make a great difference in modern forestry and ecological civilization, but also continue to explore new markets for bamboo to be extensively used in more industries such as electricity, environmental protection and chemical engineering, etc.
After the report, two entrepreneurs discussed heatedly with researchers of ICBR on issues such as opportunities and challenges facing bamboo industry, a critical period of transformation and upgrading of enterprises and products, how to promote the healthy growth of the industry chain, continuing to highlight advantages of our bamboo industry to compete in international markets and the status of trendy industries.