ICBR and Other Partners Joined EU-China Exhibition on Urban Development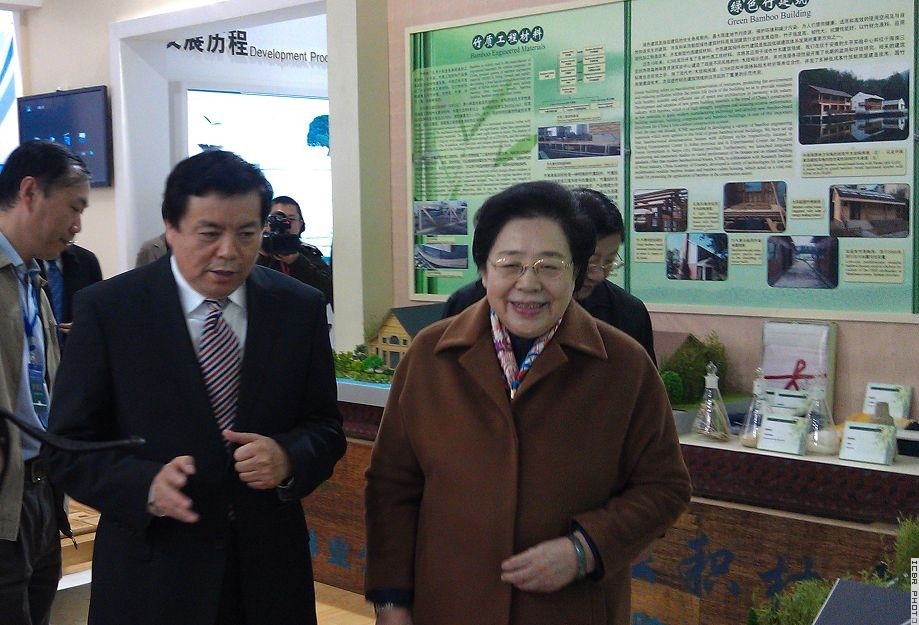 Prof. Jiang Zehui and Minister Zhao Shucong visited exhibition booths
Exhibition booths themed by bamboo and urban forest received praise of experts from home and abroad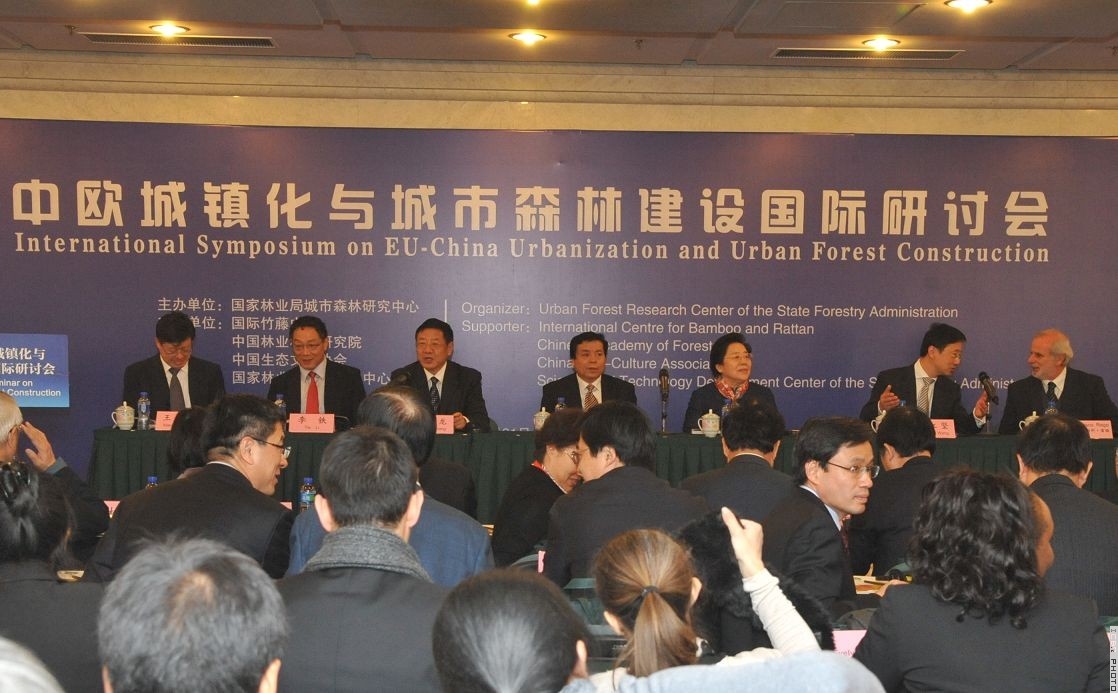 International Symposium on EU-China Urbanization and Urban Forest Construction launched in Beijing
Beijing witnessed the first EU-China Exhibition on Urban Development during 20-23 November 2013 which was one of the important initiatives to substantiate the Joint Declaration on the EU-China Partnership on Urbanization signed by leaders of both parties. International Center for Bamboo and Rattan (ICBR), State Forestry Administration (SFA) joined Urban Forest Research Center (UFRC) of SFA and International Network for Bamboo and Rattan (INBAR) in attending this Exhibition, launching two exhibitions themed by Green Bamboo Construction, Engineering Materials and Modern Bamboo Products, Urban Forests for a Beautiful China; together they held an International Symposium on EU-China Urbanization and Urban Forest Construction, joined by Minister Zhao Shucong of SFA who delivered a speech and Madam Jiang Zehui, Vice Chair of Committee of Population, Resources and Environment, Chinese People's Political Consultative Conference (CPPCC), Co-chair of INBAR Board of Trustees, Director General (DG), ICBR, President of China Eco-Culture Association (CECA). Besides, Madam Jiang was also invited to the Opening Ceremony of the Expo and 2013 EU-China Urbanization Partnership Forum.
The Exhibition booths themed by Green Bamboo Construction, Engineering Materials and Modern Bamboo Product were co-hosted by ICBR and INBAR, which mainly showed bamboo-based products and supplemented with posters and multimedia presentations. It highlighted China's progress in bamboo engineering materials (BEM) and green bamboo building technology in the past decade. Furthermore, a new section of bamboo-based products innovated by China were also presented here, such as bamboo fiber textiles, bamboo daily chemical products, electronic products, etc. The Exhibition themed by Urban Forests for a Beautiful China displayed to the public a comprehensive picture of accomplishments in China's urban forests and relevant contribution to improve urban and rural environment during the process of urbanization mainly through three aspects: history of urban forests in China, promotions organized by the government, and technology support such as urban forest research, developing indicators, planning, etc. Officials from SFA, Ministry of Science, Anhui, Jiangsu and other provinces, experts and delegates from INBAR, ICBR, CECA, China Flower Association, Chinese Academy of Forestry (CAF), Fujian Agriculture and Forestry University, Nanjing Forestry University, Jiangsu Provincial Academy of Forestry, Sichuan Academy of Forestry all visited the exhibition. Two thematic exhibition booths also enjoyed wide attention and praise from the public and visitors from all over the world.
 
In the International Symposium on EU-China Urbanization and Urban Forest Construction, attendees from China and the EU shared their opinions about urbanization and urban forest. Vice Minister Zhang Jianlong of SFA chaired the Opening Ceremony. Minister Zhao Shucong of SFA in his remarks pointed out that as the core of socioeconomic development, city also consumed the most resources and energy, emitted the most greenhouse gases. During urbanization, the world focused on promoting urban forest to ameliorate environment and ecological carrying capacity. Advanced concepts and successful practices in urban forest particularly in Europe and America offered useful references for China. The Symposium was also joined by Mr. Li Tie, DG of China Center for Urban Development (CCUD), Mr. Wang Xiaofang, Department of Development and Planning, Ministry of Science and Technology (MOST), Member of the Standing Committee, Qingdao Municipal Committee, Vice Mayor of Qingdao, Shandong Province, Minister Counsellor Wang Hongjian, Department of European Affairs, Ministry of Foreign Affairs, Prof. Francisco Rego of University of Lisbon, etc. who all delivered opening remarks. Madam Jiang Zehui gave a keynote speech titled by Urban Forest for Green Urbanization which shared comprehensive discussions and in-depth analysis on the special status and role of forests in urbanization, cooperation and practice of urban forestry between China and EU. Chief Scientist Peng Zhenhua of CAF stated in his report that urban ecological infrastructure which highlighted forest acted as a vital topic for China's sustainable urbanization, as a guardian for building a charming China with ecological civilization; ecological environment was not only infrastructure, but also the health and welfare of residents. China should shift its concepts of urban forest construction from simply pursuing superficial beauty to serving physical and mental health of residents.
Six experts from the United Kingdom, Italy, Greece, Portugal, as well as Fujian Agriculture and Forestry University, Urban Forest Research Center and representatives from six cities such as Dongguan, Tai'an, Jiyuan, Wenzhou, Yiwu and Xichang gave reports on practices and avant-garde theories in urban forest construction. A total of nearly 160 representatives from 16 countries participated in the seminar; attendees came from CPPCC National Committee, National Development and Reform Commission, Ministry of Foreign Affairs, Ministry of Science and Technology, Ministry of Finance, State Forestry Administration and other ministries, Chinese Academy of Sciences, Chinese Academy of Forestry, Beijing Forestry University, Anhui Agricultural University, South China Agricultural University and other research institutes, Dongguan, Tai'an, Jiyuan, Wenzhou, Yiwu, Xichang and other cities, the European Union, World Conservation Union, INBAR, as well as Portugal, Italy, UK, Colombia, Kenya, etc.
Organizers followed the principles of specific subjects, rich culture, distinctiveness and frugality to launch the exhibition booths and seminar which through scientific argumentation and careful planning comprehensively displayed and promoted unique roles of urban forests and green bamboo and rattan industry in China's urbanization, as well as building ecological civilization and a beautiful China; this boosted international influence and social awareness of China's urban forest and bamboo industries.