Jiang Zehui Meets the Executive Secretary of UNCCD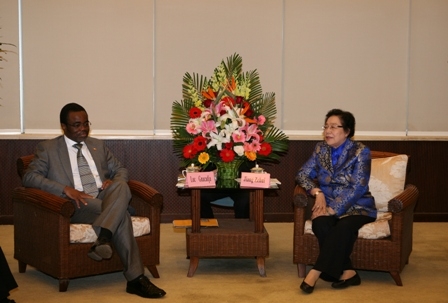 Prof. Jiang Zehui, Vice Chair of the National Committee of Population, Resources and Environment, the CPPCC, Co-chair of INBAR Board of Trustees, Director General of ICBR met Mr.Luc Gnacadja, the Executive Secretary of the "United Nations Convention to Combat Desertification" at the International Bamboo and Rattan Tower, Beijing on 9 April 2010.The two sides held cordial talks on developing further cooperation and providing developing countries with training of combating desertification.  
 
The international Training Centre, United Nations Convention to Combat Desertification was established as a Branch of ICBR in October 2004. The centre has been operating as a "combat desertification platform" for exchanging experiences and promoting knowledge in international level, regional and sub regional levels.