International Bamboo Seminar in Nepal
At the invitation of INBAR and German Technical Cooperation (GTZ), Prof. Chen Xuhe attended the International Seminar on Bamboo for Sustainable Development held in Kathmandu, Nepal, on 10-12 April 2007.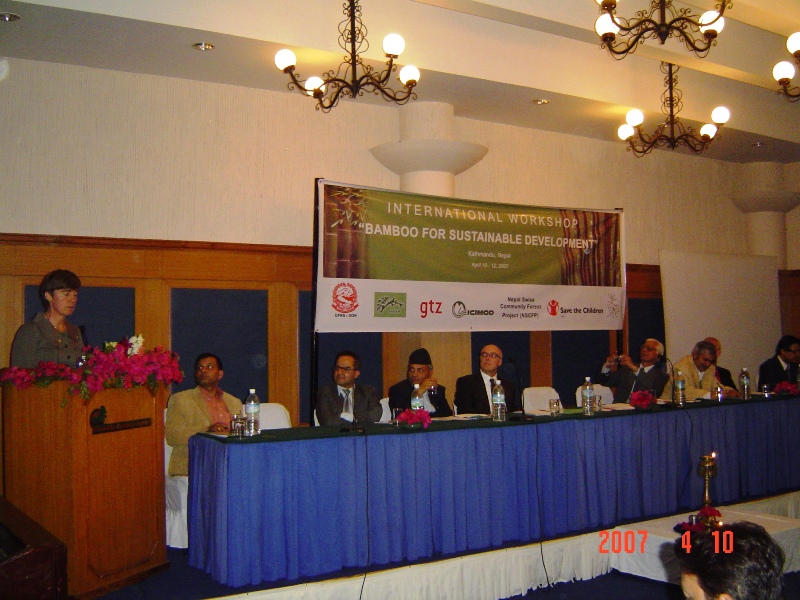 This seminar was jointly organized by Department of Forest Research and Survey Nepal, GTZ / PSP – RUFIN Kathmandu, Nepal, International Network for Bamboo and Rattan (INBAR), Beijing, PDR China and Bamboo and Rattan Society Nepal. 130 participants attended the seminar; they were from Nepal, India, China, UK, US, Germany, Canada and so on.  Mr.Matrika Prasad Yadav, Minister of Nepal Forestry Ministry,  Mr. Punya Poudyal, Chair of the Bamboo and Rattan Society, Nepal, Mr.Thomas Labahn, GTZ/PSP, Nepal, and Dr. Coosje Hoogendoorn, DG of INBAR presented at the opening ceremony and delivered speeches. A representative of Chinese Embassy in Nepal attended the opening ceremony.
The objective of the seminar was to review the overall development of the bamboo sector in South Asia, especially in Nepali context, and to build the regional strategy and alliance for wider development of bamboo sector. The topics of the seminarwere mainly on Bamboo in employment generation; Bamboo and poverty reduction; Bamboo products and market development; Bamboo value chain development; Policy on development of bamboo sector in Nepal. The seminar also organized an exhibition on the Nepalese bamboo products, including furniture, flooring, and handicrafts.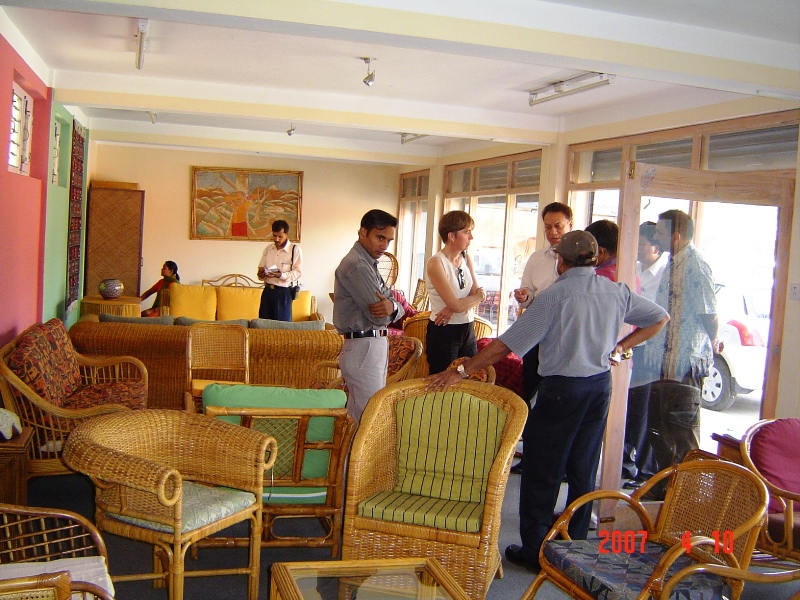 During the seminar, Prof. Chen made a presentation on the "Development of Bamboo Industry in China", attracting the participants' attention and interest in developing cooperation with China on bamboo development.
Nepal houses more than 53 species of 12 genera of bamboo. Annual production of bamboo culms (stem) is estimated at 3.01 million out of which 2.64 million is internally consumed and around 0.64 million culms are exported to India. On an average each household consumes about  46 culms/year. Around 102 Metric tons of bamboo shoot is estimated to be produced annually in Nepal most of all consumed locally.